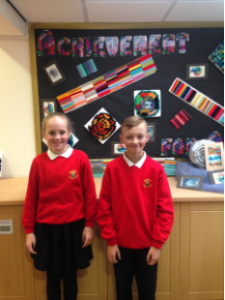 Head Girl – Naomi
Head Boy – Kyle
Welcome to Grangetown Primary School, I am Kyle the Head Boy and I am Naomi the Head Girl.
We would like to tell you a little bit about our fantastic school –
We are very lucky to have such kind and caring teachers who really make their lessons fun for all of us. We have a full time sports coach which means we are great at P.E. We also enter a lot of teams into competitions and often win! We have an amazing breakfast club which really fills us up for a day of working and we also have a number of afterschool clubs including; football, running club, healthy kids and the danger academy.
During playtimes we have a field, two muga's, 2 climbing walls and loads of equipment for all the children to enjoy. We have a school council who put forward our ideas on how to improve the school and our time here. We have just had a new classroom built, which looks like a log cabin and we are about to start developing our own wildlife and science garden. Won't that be amazing!
Not only do our teachers, teach the best lessons they also help us to have difference experiences through our schools years. We go on school trips, have special visitors into school and have our very own 10 things to do before we leave each year group. In Year 6 we have already climbed Roseberry Topping and made our own picnic. We are looking forwards to meeting the Mayor and camping under the stars. Exciting!
GABA is our very own anti bullying group. It stands for Grangetown Anti Bullying Ambassadors and is made up of children across the school. They are there to help with any problems. If you have a worry we also have a worry monster in reception, who eats children's worries and a school counsellor who we can talk to.
All in all, the school is an amazing place to be.