At Grangetown Primary School, we believe that happier children learn better!
"The best predictor of whether a child will become a satisfied adult is not their academic achievement but their emotional health in childhood." – Lord Layard
We aim to promote positive mental health for all our children, staff and families. It is our vision that all children are entitled to develop to their fullest potential academically, socially, and emotionally. In order for that to happen, we are aware that a whole school approach to health and wellbeing is required which echoes our core values (Ready, Respectful & Safe). Our open culture allows students' voices to be heard. We strive to transform mental wellbeing so it filters through every conversation, classroom and corridor. By using school-based interventions and specialised, targeted approaches, this climate is created.
Here at Grangetown Primary, we have our own Wellbeing Suite which offers our children, parents & staff a place of sanctuary where they can work on their mental wellbeing with support & care.
Emotional health is about how we think and feel. It is about our sense of wellbeing, our ability to cope with life events and how we acknowledge our own emotions as well as those of others. It doesn't mean being happy all of the time.
We have a full time Wellbeing Practitioner plus designated qualified Counsellor, two days a week.
Our designated Wellbeing Practitioner is Thrive, ELSA & Rainbows trained and offers support on a one to ones, small groups basis and offers daily checking in, check up and check out as well as Rainbows and Sunbeams sessions.
We believe our wellbeing services are invaluable to our school because they provide a safe space where people can explore and make sense of their thoughts and feelings whilst facing the challenges of life.
Senior Mental Health Lead – Miss Armstrong
Wellbeing Practitioner – Miss Bashford
School Counsellor – Michelle Evenden
For more information about these services please click the images below.
As a school we also have support from Inside Out Mental Health Support Team.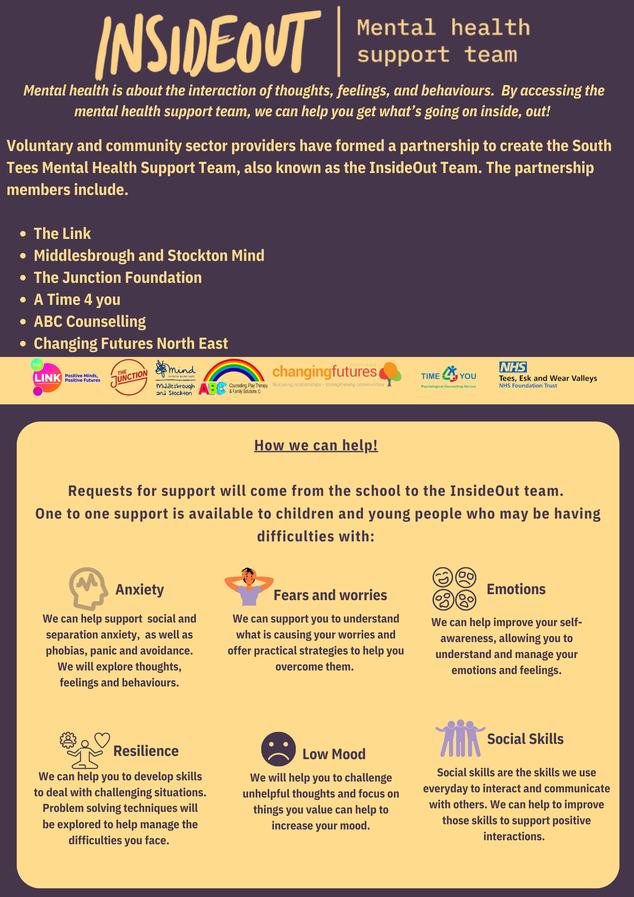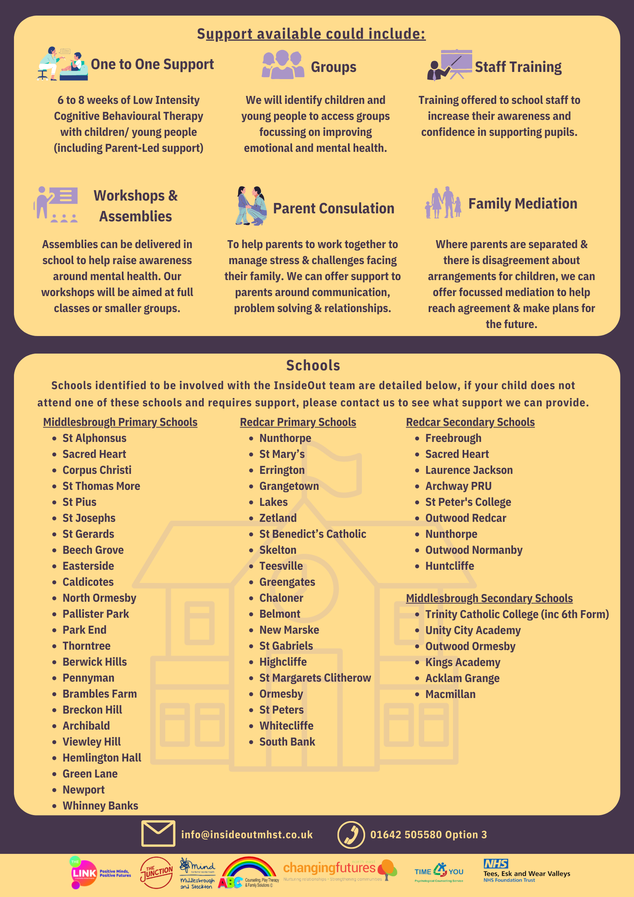 If you would like anymore information about Inside Out please come to the parent drop in on a Thursday at 2:30pm or contact the school office.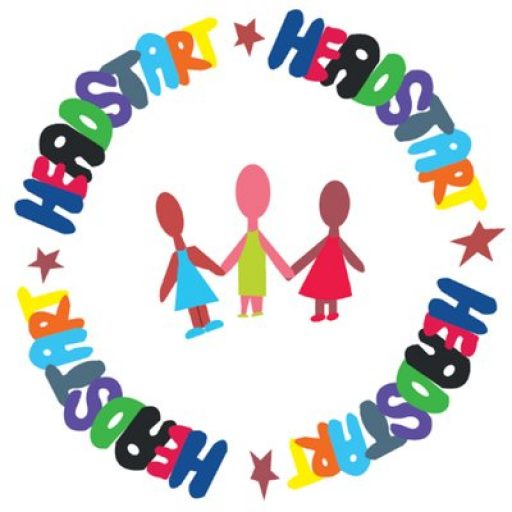 We are also part of HeadStart and we have our very own HeadStarters! Our HeadStarters are our trained children who have participated in an accredited pathway of education that aims to build resilience and knowledge around their own wellbeing and increase their confidence and self-esteem.